Hint: they're absolute game-changers
If you've ever used any sort of acids to keep blemishes at bay and boost your skin's luminousity, then you are probably familiar with chemical exfoliators. Designed to buff away dullness by removing the top layer of dead skin cells, these wonder products are the stars of our beauty routines. As opposed to physical scrubs – many of which contain harsh microbeads known to damage the skin's protective barrier and increase sensitivity – chemical exfoliators have won the hearts of dermatologists and skincare experts.
Whilst we have very much embraced the switch to acids when it comes to our complexions, our skin doesn't often get the same treatment from the neck down. In fact, the majority of exfoliating products designed for our bodies are physical exfoliators. Whilst they do an amazing job at removing fake tan and giving our skin that silky-smooth feel, dermatologists tend to advise against them. Abrasive formulas can actually damage the skin's protective barrier and increase sensitivity, especially if you tend to go in heavy-handed. But fear not, their chemical rivals are not only gentler on your body, but they are also more effective. Chemical peels penetrate the skin deeper, dissolving the cellular glue that holds dead skin cells together to give you that next-level smoothness.
AHAs (Alpha-hydroxy acids) and BHAs (Beta-hydroxy acids) are the two types of exfoliating acids you'll see on your products' ingredient line-up. Glycolic and lactic acids are the most popular AHAs, whilst salicylic acid (known to dissolve any pore-clogging nasties) is the most common BHA. As a rule of thumb, BHAs penetrate the skin deeper, however, many product formulas use a combination of both, merging their skin-smoothing properties.
The intensity of chemical exfoliators can vary, depending on the strength of their ingredients. The general expert advice is to start off with mild products, gradually working your way up to more heavy-duty formulas. If you are exposing any parts of the body to the sun post-exfoliation, make sure you slather on the SPF – removing that layer of dead skin can slightly increase sun-sensitivity.
Now that you know all the how-to's, you are bound to become a convert! If you are ready to ditch granular scrubs in the favour of chemically-clever exfoliants, here are some of the best products to help you with the transition…
REN Skincare AHA Smart Renewal Body Serum, £35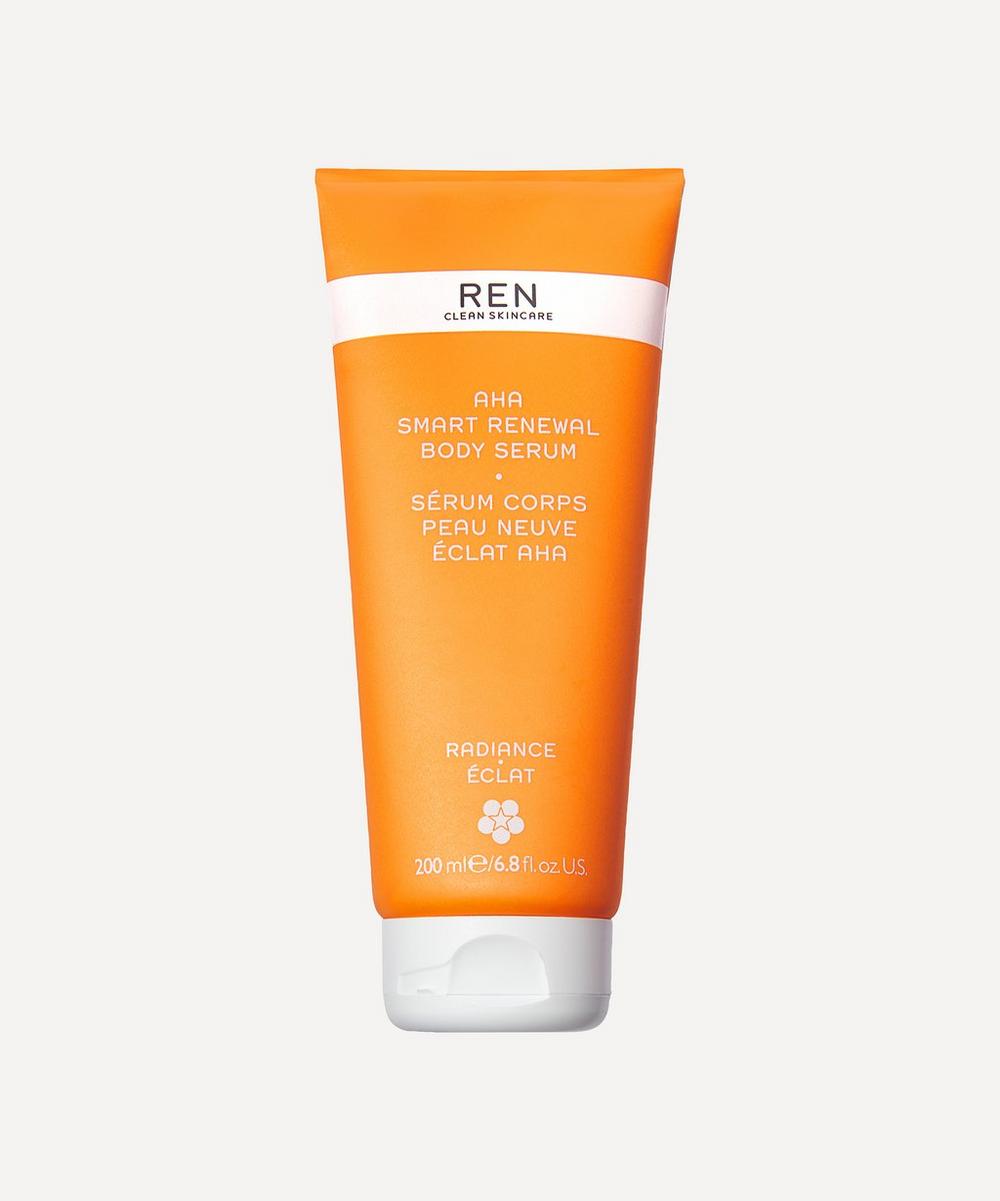 This lightweight gel-like texture delivers instant smoothness, with 10% AHA and probiotics to improve your skin's appearance and strengthen its barrier. With the help of Lactic Acid, the formula buffs away dead skin cells and helps combat pigmentation (bye-bye, sun spots!), leaving your skin looking extra-radiant. Simply apply it after showering, gently massaging the product into any areas that need a bit of TLC.
Mario Badescu AHA Botanical Body Soap, £6.95
If post-shower lotions and potions aren't your thing, this invigorating body wash is the perfect compromise! The fruit extract-enriched formula does an amazing job at deep cleansing your body, breaking down dead skin cells to reveal smoother-looking, glowier skin. If you suffer from sensitivity, you'll be pleased to hear that this a soothing choice – oat proteins work to calm any irritated areas, making the formula suitable for all skin types.
Paula's Choice Weightless Body Treatment 2% BHA into 2% Body Smoothing Spot Exfoliant, £31
The body version of the award-winning 2% BHA Liquid for the face, this gentle exfoliator buffs away dryness, leaving skin looking smooth and healthy. The lightweight texture delivers instant results, making it the perfect product for when your skin needs an immediate pick-me-up. Salicylic acid works to tackle clogged pores and remove dead skin cell build-up, whilst antioxidants help protect the skin against free-radical damage. The formula is delicate, scentless and enriched with chamomile extract to soothe the skin.
Pixi Glycolic Body Peel, £24
This gentle peel works hard to smooth out the skin, with Glycolic and Lactic acids to lift away dullness and reveal a satiny finish. The formula will leave your body feeling suppler and more toned, all prepped for moisturisers or oils. A blend of soothing Aloe Vera and cucumber extract is added in to hydrate and calm any irritation, making this body peel a safe choice for sensitive skin.
Chantecaille Retinol Body Treatment, £85
Whilst retinol isn't an acid, this wonder-ingredient has been gracing our skincare routines with its age-defying, skin-smoothing properties. If you are retinol user already, try and add this anti-ageing powerhouse into your body routine too! This treatment's rejuvenating feel boosts the skin's bounciness and promotes a healthier, suppler appearance. Enriched with botanical extracts to deeply nourish and soothe, this is a potent formula that helps skin look more youthful and hydrated.